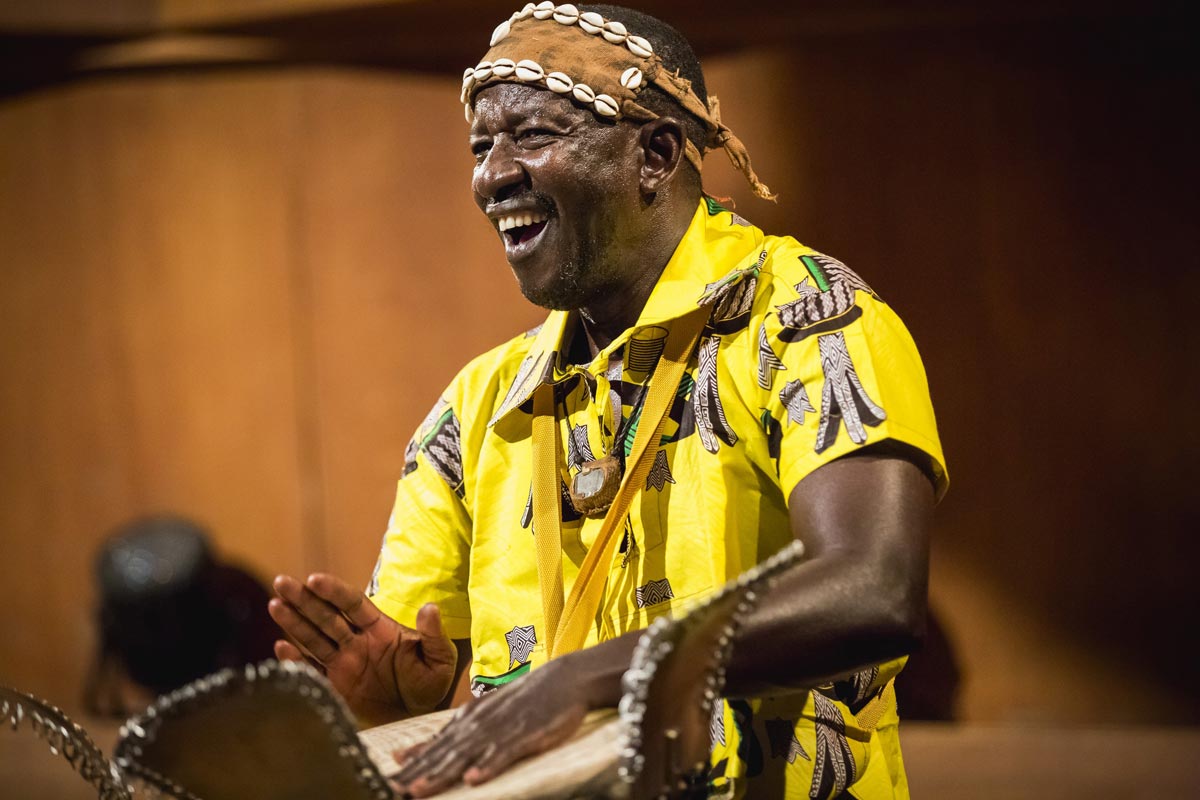 Adama Dramé celebrates his fifty year career with his latest release, Dakan. The Burkinabe griot and djembefola (djembe player) mixes traditional and contemporary mandingo percussion to create a modern yet timeless record with his impressive ensemble. Growing up, Dramé learned important musical and life lessons from his father and his grandfather, which he's carried with him his entire career. He draws from these teachings as well as the enthusiastic students he educates worldwide. While he has questioned his musical path during difficult times, his inspiration has remained steadfast. Dakan translates to "destiny" and his passion for music is undeniable on this solid release.
"Balimaya" introduces the listener to a dynamic group full of layers. It starts with some outstanding balafon and then shifts towards a rhythmic, djembe driven percussion groove with a nice solo vocal from Adjara Cissé. The power and energy of this full ensemble reveals itself with intensity as the track progresses. The song speaks of a brotherhood shared around the sound of the djembe.
The pace picks up on the polyrhythmic "Foliba." Guitar, balafon and djembe catch fire as Adama Dramé praises God for all of the great music in the world, claiming that one needs creativity, learning and endurance in order to make music.
"SNC" speaks of national culture week, a time where people come together and share cultures for social cohesion. Violin and flute play off each other with clavier and electric bass joining the ensemble as Dramé sings, supported by strong female backing vocals.
Horns add a nice charge to "Bobo Dioulasso," a song that praises the city, wishing all of its inhabitants a happy new year. "11 Décembre" is an a cappella tune celebrating fifty-four years of independence in Burkina Faso.
"Sanbè Sanbè (50 Ans)" celebrates fifty years of music for Adama Dramé who sings about his journey through life and his destiny as a griot. Kora, saxophone and trumpet add nice touches to this laid back but eager song.
Kicking things up a notch, "Zoukoulélé" criticizes the village of Zounbakoulé, claiming it is a place filled with hypocrisy, malice and rancour. Dramé leads the charge with his pulsing ensemble brimming with violin, horns and the always present choir of vocals adding tension to the piece. "Nouhoun" is nine minutes of solo djembe mastery. The only accompaniment is Dramé's energetic chants and cries heard in the background.
"Zouloubou Zalaba" is a quick, bopping number that asks people to not hide from the truth because it will always reveal itself in the end. Dramé warns that the people have the last word and reminds leaders of the popular uprisings in Burkina Faso. The urgency of the group is addictive, pumping the music full of raw emotion.
A lone mandolin introduces "La Baika," a rolling composition that praises Muslims and calls on all religions to build a world without hate. The violin and clavier add beautiful tones to Dramé's relaxed voice.
"Yanoubé" extolls the virtues of the griot. Dramé claims the griot wants everyone to look deep inside of themselves and to come out of themselves. The track switches direction halfway through, where a clavier holds a chord with sustain to great effect over buzzing balafon and electric bass.
The album concludes with "Djomaya," a song that calls on people to show respect to one another. Mandolin, guitar and balafon harmonize together as Dramé praises Thomas Sankara and Burkina Faso.
Dakan is an impressive album clocking in at just over seventy minutes. Dramé and his ensemble are a force to be reckoned with and execute these songs with tremendous skill and vision. The djembe ties everything together on the record and Dramé's wisdom and drive fills this release with life.
Originally published in RootsWorld Magazine.